Posted September 08, 2022 in Evolve Body Contouring, Non-Surgical
3 Minute Read:
Let's face it, when it comes to reshaping and tightening the belly and waist, abdominoplasty (more commonly known as tummy tuck surgery) can provide the most dramatic results. Unfortunately, this treatment involves major surgery and a significant recovery period.
However, if you've thought about undergoing a mini tummy tuck for mild to moderate skin laxity and excess fat around your midsection or have stubborn fat elsewhere, the Evolve system might be a better solution.
What can
Evolve
Do?
Evolve is a state-of-the-art, non-surgical cosmetic device with the following three body sculpting options for fast, painless treatment with little to no downtime:
Evolve Trim – for

fat reduction

Evolve Tite – for

skin tightening

Evolve Tone – for

building muscle
An advantage that Evolve has over tummy tuck surgery, besides being non-invasive, is that this treatment is not limited to the abdomen. Instead, it can address several areas, including:
Arms

Abdomen

Buttocks

Thighs
More About Evolve's Three
Body Sculpting Options
Body contouring with Evolve is proven to be safer and more precise than similar procedures, and you have control over the intensity of your treatment.
1. Evolve Trim
This option uses radiofrequency (RF) energy, delivered deep into fatty tissues to heat fat cells, causing them to die and be flushed out of the body. Evolve Trim also smooths skin by treating stubborn cellulite for a firmer appearance.
Evolve Trim treatment areas:
2. Evolve Tite
This option uses RF energy delivered into the dermis to increase collagen production and tighten skin that has begun to sag. Evolve Tite treats loose skin for a younger, firmer, and tighter appearance by restoring the skin's elasticity.
Evolve Tite treatment areas:
3. Evolve Tone
This option strengthens muscles by using electrical muscle stimulation (EMS) to cause the contractions necessary to build muscles and improve definition. Evolve Tone can effectively define muscles that are difficult to tone with conventional exercise.
Evolve Tone treatment areas:
What Can a Tummy Tuck Do That Evolve Can't?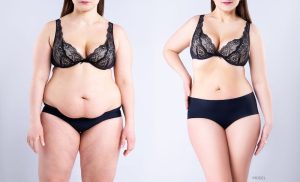 A consultation with a qualified plastic surgeon can help you determine whether they recommend a full, mini, or extended abdominoplasty.
If you require a full or extended tummy tuck or have extensive stretch marks on your belly, you aren't likely to be satisfied with the Evolve system. Surgical procedures still have the opportunity to treat more significant laxity and excess skin (common after significant weight loss or multiple pregnancies).
However, if the surgeon tells you that all you need is a mini tummy tuck or you want to treat a different area, it's well worth exploring the options available with Evolve.
Treatment Time: Tummy Tuck vs. Evolve
Tummy tuck surgery takes care of belly fat reduction, sagging abdominal skin, loose muscles, and stretch marks in one surgery. However, recovery can take weeks, and swelling may obscure your final results for a few months.
With Evolve, achieving your ideal results will entail weekly treatments for up to six weeks, with each session taking between 30 and 60 minutes. While you may experience minor irritation after treatment, you shouldn't need to refrain from everyday activities.
Your Choice of Tummy Tuck or
Evolve in San Diego, CA
The professionals at Coastal Plastic Surgeons are well-respected cosmetic surgeons committed to providing surgical and non-surgical cosmetic options in Del Mar, California, to meet your unique needs.
Our cosmetic surgeons also practice in Temecula and San Diego's East County.