BACK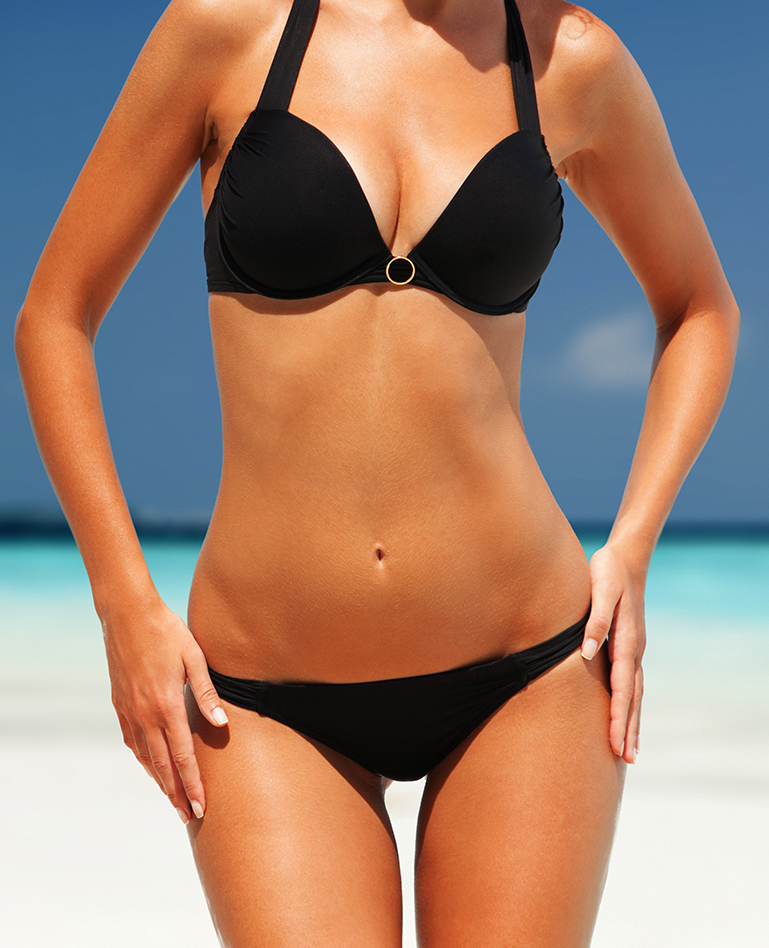 Over time, our bodies begin to store fat in a variety of unfortunate areas. No matter what we do to work it off, it's nearly impossible to melt that stubborn fat. With medical advancements today, it is now a straightforward matter to use liposuction or "liposculpture" techniques to contour the body. This procedure reduces or removes fat deposits from various areas of the body, offering the fastest, most efficient method of body contouring available in San Diego today.
Candidates for Liposuction
The best candidates for liposuction are men and women that are within about 30 pounds of their target weight but have stubborn pockets of fat that just won't respond to their diet and exercise efforts. It is important to be relatively healthy and have realistic expectations for the procedure. They should also be willing to maintain a healthy lifestyle after liposuction to ensure their body contouring results are long lasting.
Treatment Areas
Liposuction offer a wide range of options for the following treatment areas:
Chin, neck and jowls
Cheeks
Upper arms
Inner and outer thighs
Buttocks
Knees, calves and ankles
Hips and flanks
Abdomen and waistline
The physicians at Coastal Plastic Surgeons will evaluate your treatment area and discuss your aesthetic goals with you to determine whether liposuction will meet your needs the best.
Procedure Details
Liposuction is performed at Coastal Plastic Surgeons on an outpatient basis, which means you can return home the same day as your procedure. It can often be done using local anesthesia with sedation, although general anesthesia may be recommended in some circumstances. Incisions used to perform liposuction are usually very small and leave no residual scarring after the procedure.
The basic liposuction process involves insertion of a small tube called a cannula directly into the fat deposit. The cannula loosens fat cells before suctioning them out of the body. Different techniques can be used during liposuction that involve laser technology or mechanical agitation. The devices loosen the fat cells more efficiently so they can be removed with less trauma on surrounding skin and tissue. Your surgeon will go over the best technique with you to meet your specific needs.
Recovery and Results
You may be sore and swollen immediately following your liposuction procedure. In many cases, a compression garment will be worn over the treatment area for a few days to reduce swelling and encourage healing to the area. You may also be given a prescription for oral pain medication to keep you comfortable in those first few days after your procedure.
Most of our patients are back to their regular activities within one week or less. The results of the procedure will become evident once swelling resolves and the treatment area heals completely. Those results will be permanent as long as you maintain a healthy weight after the procedure. Because fat cells are actually removed, they will not return. However, if you gain weight after liposuction, remaining fat cells can begin to enlarge and affect your results.
Choosing Your Liposuction Surgeon
When you make the decision to move forward with your liposuction procedure, it is essential to select a plastic surgeon with ample experience and expertise in this surgery to ensure the best possible results. The physicians at Coastal Plastic Surgeons in San Diego perform hundreds of liposuction procedures every year and are highly qualified to help you achieve your body contouring goals. To learn more, contact Coastal Plastic Surgeons at (858) 365-3558.