Posted August 24, 2016 in Uncategorized
At Coastal Plastic Surgeons, our passion is not only helping men and women look and feel great; we are dedicated to several charitable organizations that give back to the community in a special way. The two primary charities we serve are very close to our hearts and speak to who we are as surgeons.
Our very own Dr. Munish Batra is heavily involved in both Doctors Offering Charitable Services (DOCS), as a co-founder, and the American Society of Indian Plastic Surgeons (ASIPS), as one of its most active members. Through these organizations, he has been able to change the lives of many people with his talent for plastic and reconstructive surgery.
Doctors Offering Charitable Services (DOCS)

Dr. Batra helped to found DOCS with the help of Dr. Michael Halls to provide surgical reconstruction to people who would be unable to find treatment for their disfigurements and injuries otherwise. The DOCS community is focused on the local San Diego community, not interfering with other organizations that travel abroad to provide services. There are so many people in need of surgical help in our own city, and Dr. Batra saw that need and addressed it.
The homeless, families of injured military servicemen and women, victims of domestic violence, migrant workers and the poor of our community cannot afford the medical services they often need when suffering from debilitating diseases and injuries. The group of surgeons who have dedicated themselves to DOCS have given their time to support these patients and give them the care they deserve.
DOCS has been featured on the Oprah Winfrey Show for the care they provided to a woman with neurofibromatosis type I, and have also been known for treating local marines, single mothers and other patients with conditions ranging from craniofacial trauma to facial deformities and tumors. DOCS has become an embedded part of the San Diego community.
American Society of Indian Plastic Surgeons (ASIPS)
Dr. Batra is also an active member of the American Society of Indian Plastic Surgeons. He spent a length of time in India donating his services of reconstructive surgery to the underprivileged in the region. He traveled abroad to support and help victims of a dowry burning and brought the news back to the States to spread the word and provide education and awareness to those of us who may not be aware of the turmoil that remains in other parts of the world. He is passionate about helping the communities of South East Asia and providing quality surgery for victims who would never otherwise be able to receive the treatment they need.
Coastal Plastic Surgeons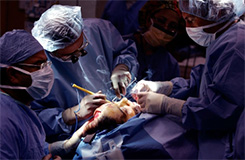 The importance of giving back to the community is at the heart of Coastal Plastic Surgeons, and the feeling of care and compassion extends to the patients we see on a daily basis. Everyone who walks through our doors receives quality care, compassionate support and incredible results.
If you are interested in learning more about our charitable outreach and how you can get involved, call Coastal Plastic Surgeons today: (858) 365-3558.