Posted January 04, 2022 in Mommy Makeover
3 Minute Read:
Although the Mommy Makeover is a popular choice among women looking to reclaim their pre-baby bodies, it is not just for mothers. Typically, anyone who has undergone significant weight loss or other major body changes can benefit from this transformative procedure.
The term Mommy Makeover is a blanket statement that refers to a combination of breast enhancement and body contouring procedures usually performed in a single surgery to enhance the body's appearance.
Why Should I Choose a Mommy Makeover if I'm Not a Mom?
Customizable to Each Patient
The procedures performed in a Mommy Makeover are individualized to each patient to help them achieve their personal goals.
For women who have lost moderate to significant weight, the procedure may include body contouring and tightening treatments to address sagging skin and lift sagging breasts.
It is common to see women who are not moms combine options like breast augmentation, breast lift surgery, tummy tuck surgery, and liposuction to achieve personalized results through one surgical experience.
Offers Comprehensive Results
A major benefit of a Mommy Makeover is that it allows for a dramatic transformation with usually just a single surgery.
The combination of multiple procedures targeting different body areas creates tremendous improvements, making it a popular choice for more than just moms. For instance, you get to improve sagging and restore volume to the breasts while reducing pockets of diet and exercise-resistant fat.
A Single Recovery Period
By combining multiple surgeries at once, you will only require a single recovery period. This means you can drastically reduce the number of days you will be off work and other activities compared to having each procedure done separately.
Not every woman qualifies for a single surgery; some Mommy Makeovers are separated into two surgeries. Your plastic surgeon will evaluate your needs during your consultation and inform you about your options and what you can expect.
Boosts Confidence
Every woman wants to look and feel beautiful in their bodies. However, it is common to see women, even without children, struggle with excess skin and fat in the stomach or breasts, contributing to unwanted body insecurities.
A Mommy Makeover helps restore a woman's self-confidence, which is often translated into every aspect of their life.
When performed on the right candidate, this surgery can be a life-changing experience that impacts how one feels about oneself.
Long-Lasting Results
Furthermore, the results of your Mommy Makeover are designed to last a long time. A breast lift and/or augmentation will give you perkier, more youthful breasts that should only change gradually as you age.
Any procedure involving fat removal and body sculpting should last as long as you maintain a healthy lifestyle that incorporates good nutrition and a regular workout regimen. These procedures do not stop the natural aging process or prevent you from gaining additional weight. You must work to maintain your results.
For the best results, it is important that you find a board-certified plastic surgeon with the expertise and creative sense in body contouring procedures like Dr. Batra.
What Does a Mommy Makeover Look Like?
If you are curious about how you can benefit from a Mommy Makeover, visit our Mommy Makeover before and after gallery to see how our plastic surgeons have helped their previous patients.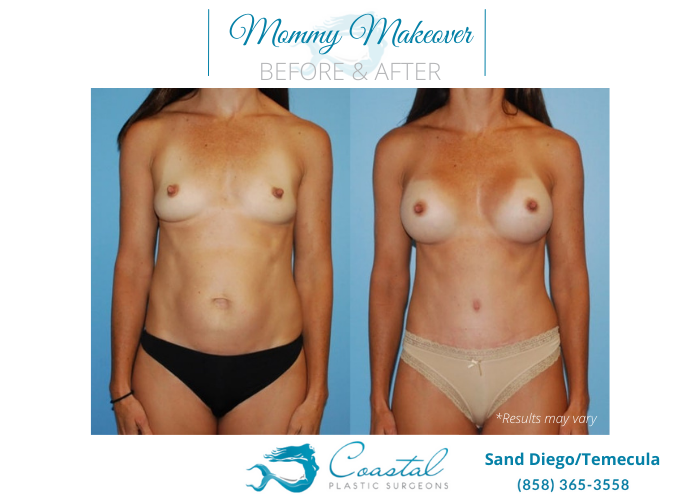 Interested in Scheduling Your Mommy Makeover Consultation?
Are you interested in a Mommy Makeover in San Diego? At Coastal Plastic Surgeons, we have helped many moms and non-moms look and feel great again with a collection of plastic surgery techniques.
Contact us today at 858-365-3558 or fill our online form to schedule a consultation with our knowledgeable plastic surgeons and discuss your potential treatment options.