Posted July 19, 2017 in Mommy Makeover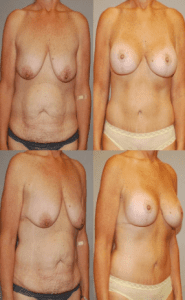 Motherhood can take quite a toll on a woman's body: sagging breasts, new body proportions, and sagging abdominal skin are the most common concerns that women have. Dr. Batra customizes a variety of cosmetic procedures within the Mommy Makeover to meet the unique needs of each of his patients. This begs many of them to ask, "Which Mommy Makeover procedures are right for me?"
Breast Augmentation or Breast Lift
Breast augmentation is one of the most common components of the Mommy Makeover since most women experience breast volume loss after having children. Breast implants not only increase the size of the breasts, but they also improve their shape and can correct asymmetry. Breast augmentation alone may also slightly improve the appearance of sagging. However, a breast lift with an augmentation is needed to improve sagging breasts and restore an overall youthful look more sufficiently.
Liposuction
One of the most common complaints postpartum women have is the accumulation of fat in places it never appeared before. Diet and exercise can help reduce inches overall, but it cannot spot reduce the way liposuction can. Liposuction can be performed on most areas of the body, including the arms, back, abdomen, thighs, and buttocks. Since it does not address excess abdominal skin that sometimes results from pregnancy, a tummy tuck is often the more effective solution.
Tummy Tuck
The tummy tuck will improve the silhouette by removing excess skin and reducing inches in the waist. It eliminates the stubborn "lower pooch" that many women develop after pregnancy, and it tightens abdominal muscles that have been stretched by the woman's growing belly. The final result is a more youthful, streamlined abdominal appearance.
If you are interested in getting the Mommy Makeover procedure in the San Diego, Vista, or Murrieta areas, please schedule a consultation with Dr. Batra at Coastal Plastic Surgeons. Call (858) 365-3558 or fill out our online contact form for more information.